Welcome to the Fallen Riders Memorial Fund
HELPING FALLEN RIDERS FAMILIES SINCE 2004
Thank you for taking the time to stop by,and checking us out. We hope you like what you see, and will join us in our efforts to help the families left behind, after they have a lost a loved one in a motorcycle accident.
Please make sure you also follow us on facebook, for the must update info on the fund,and any events we hold.
MEMORIAL POKER RUN AUGUST 7TH 2021.
MORE INFO TO BE POSTED ASAP, VISIT OUR FACEBOOK PAGE FOR UPDATES TOO.
If you would like to just add a name to our wall, site, and shirt, it can be done for a 50 dollar donation.
E-mail fallenriders@aol.com for more information on how to get it done.

| | |
| --- | --- |
| | CLICK HER TO MAKE A DONATION TO THE FUND. |
WHATS NEXT & WHERE WILL WE BE!
All buttons in the menu bar are active,and are not just for drop down buttons. If pictures do not pop up, click refresh.
2021 POKER RUN AUGUST 7TH $20.00 a rider $10.00 a passanger
Our RUNS are rain or shine events for us. All other events that we might be invited to set up at are weather depending. For updates on any of our event's click on our events button and check back often, or visit our face-book page for the latest up to date up-dates.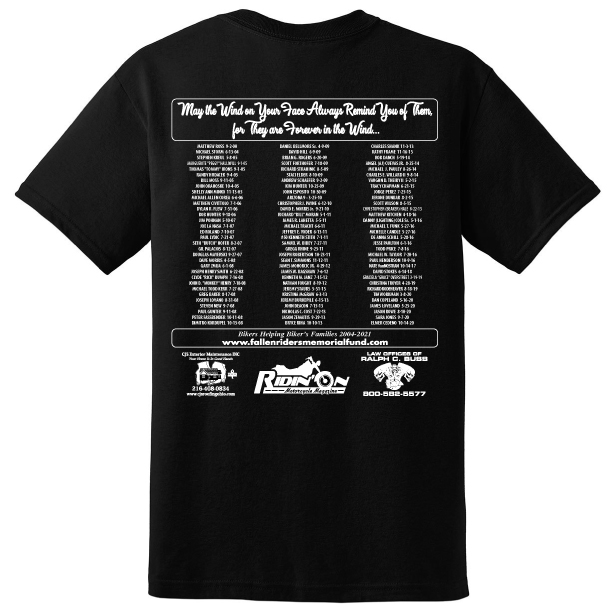 2021 MEMORIAL SHIRT BACK.

The board of the FRMF presented checkes to the families of Elemr Cedeno on October 24th 2020.
CLICK ON THE ORANGE TEXT BELOW, TO VIEW AND PRINT OFF A FORM FOR ASSISTANCE.
In a effort to make it easier for those who need our help, and to help speed up the application process. We have created a appication for assistance form, for those who are seeking help from us. Print this off, and then e-mail it back to the state in which the fallen rider lived. This is a work in progress, and we plan on making improvements to this form ,and how it is sent as we go. You can still call to notify us of a family that needs our help if needed.

CAFEPRESS ONE OFF SUPPORT ITEMS

Ride hard, Ride safe, and Ride free!
IN OHIO & FLORIDA ONLY, WE NOW ACCEPT THESE CREDIT CARDS AT ALL OF OUR EVENTS, BUT ONLY AT THE VALLEY VIEW OHIO LUBE ON THE DAY OF THE POKER RUN.

Fallen Riders Memorial Fund ® and it's Logo's are a Registered TradeMark of the Fallen Riders Memorial Fund ® since 9-21- 2007 Use of the name, or logo with out expressed written consent , in any form, for any other purpose, other than to benefit the Fallen Riders Memorial Fund, WILL lead to legal action against such violators.
2004 - 2021
Fallen Riders Memorial Fund
All Rights Reserved
CHRIS NICE NATIONAL PRESIDENT/C.E.O.
216-401-8314
fallenriders@aol.com
We are sorry, but once a donation has been made, we are unable to refund any money.